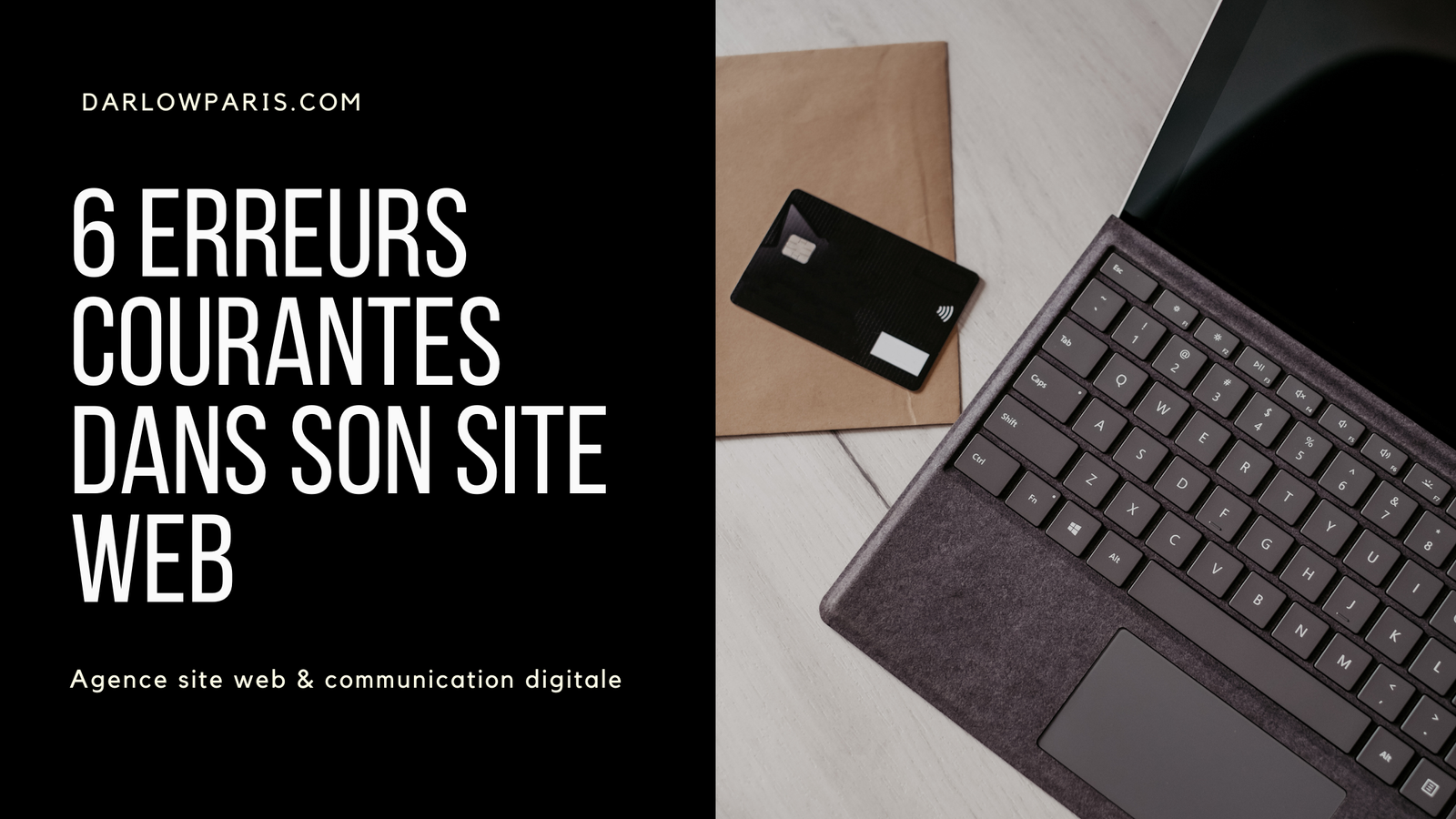 6 common errors on its website
Websites are generally seen as a digital business card. When someone has heard about a service or brand and wants to know a little more about it, they start looking for it on the Internet. From there he will be able to quickly discover his history, his philosophy, the possibilities of contact and even his portfolio. In short, it only takes one click to get the relevant data on the official websites of the companies. Therefore, it is important to build the website on a solid foundation to ensure its success. Here are the mistakes to avoid to get a good website.
Forgotten user experience
The user experience known as UX is the fact of smoothing the navigation of your website to offer a pleasant visit to your visitors. Therefore, it is important to consider the UX carefully to achieve your goal.
Even if your site is very beautiful and linked to a well-conducted and successful web marketing campaign, if browsing your website is complex, you risk losing visitors or even potential customers.
In general, complicated browsing on a corporate website can come from one of three reasons:
Too many clicks to access the desired page
Too many slownesses and bugs on the site
The site is not adjusted to all screen sizes
The last two points can be resolved by your web agency. As for the first, you have to use your imagination. However, try to consider the habits of Internet users to make it easier for them to access the information they are looking for.
In addition, if some of your visitors leave your website quickly, your search engine referencing may pay the price, as the time spent on your site is one of the main criteria considered in Google's relevance algorithm.
Forgotten management after creation
It is true that this oversight can be assumed, but at what cost? In order not to risk knowing the price to pay, it is necessary to determine beforehand who will take care of the content update after the creation of the website.
An agency can certainly take care of this task. However, you will have to comply with the schedule of the latter and the work may be postponed within 24 hours to 48 hours. Of course, the delivery of the work will be accompanied each time by a small bill.
No need for content updates
You have a website that is already beautiful and contains all the content necessary to satisfy your visitors. So you think your site doesn't need updates.
Before you create it, you've thought carefully about all the questions your customers may have in order to answer them. You have made sure to describe in detail on your page all your service offers. What's the point of getting tired of doing an update?
Well, the answer is because no activity is immune to a proposed new service. In fact, Google prefers sites that evolve. By not making any updates, you don't give them the opportunity to re-analyze the content of your page that would have had the chance to gain relevance, specifically in referencing.
Forgotten about the importance of page loading time
The culture of everything immediately has taken hold since 2010, including in the information sector. Now, the man doesn't even accept any slowness from the websites he visits.
The more seconds, the more likely the user will be to zap your website. Yes, a long loading time reduces the time to visit a website. It even shortens the amount of pages visited. If your site's bounce rate is high, Google and other search engines will immediately think your site is irrelevant.
You should therefore remember that at present, the user does not have the time or the patience to give you extra minutes. In case it gives you 5 minutes, you have to make sure to satisfy it in 5 minutes and no more.
Neglect on sensitive data
Most Internet users make it a point of honor to secure sensitive information such as passwords, addresses or bank details. If you neglect the protection of this information, for example by forgoing an SSL certificate (TLS), the file transfer is then done on the unsecured HTTP protocol that can be accessible to everyone, including hackers.
Plagiarism of competitors' website
In 2020, the search engine algorithm is no longer based solely on content and visits, it is also busy analyzing the novelty. Thus, it is always advisable to write clear, topical and authentic content. Avoid copying your competitors' sites as much as possible. This faculty will allow you to get a quality point with Google.
Connecting the website to social networks
This is the worst mistake to avoid, and more when you link them while being inactive. In all areas, a good strategy installed on social networks is a mark of trust and quality by your visitors. Avoid thinking that your target customers are not using social networks, as this is not the case.
Yes, it is important to mark your presence on social networks, but it is more important to stay active on them.