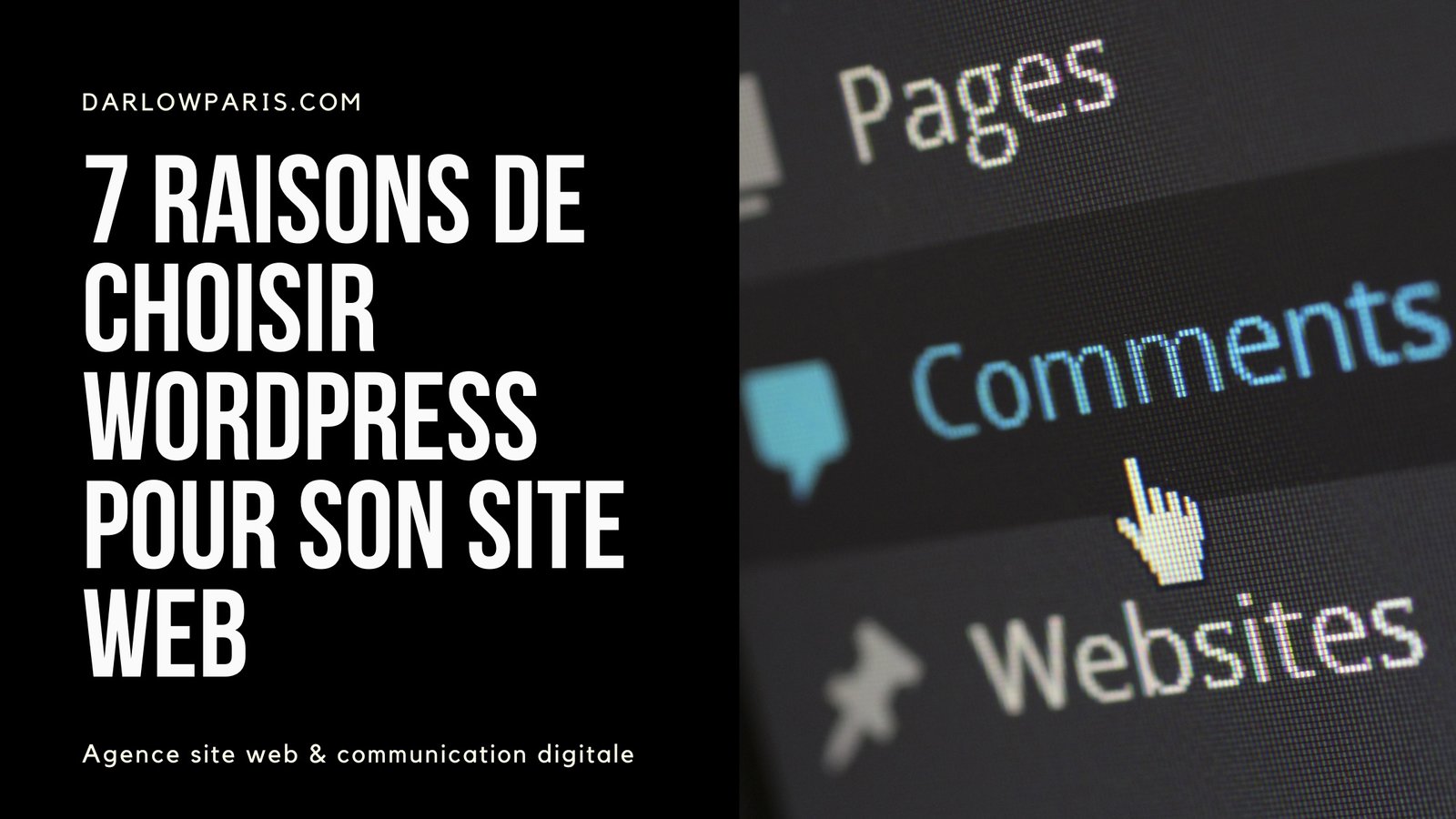 7 reasons to choose WordPress to design your website
WordPress is an ideal tool for website management,whether you are a beginner or a professional. Celebrities and big companies trust this software package, to name but a few, Barack Obama or the BBC, among others.
It was born in 2003, at first for bloggers,but it has evolved well to be able to interest webzines, e-commerceplayers, or simply anyone who needs a showcase site. It's a real asset for those who don't know HTML, as well as a way to go faster for coders and webdesigners.
Today, 23.9% of global websites exist thanks to WordPress. Here are the main reasons why businesses and individuals trust this special CMS. The seventh will amaze you.
1- You can use it easily: you don't need to know HTML
Originally, the platform was designed for users who had no knowledge of computer coding at all. That's why it's so easy to use for an individual with Knowledge in Microsoft Word,without being a geek capable of hacking the Pentagon. In addition, this software package is so used, that there is a huge amount of tutorials, audio or video,as well as documents and training on its use.
2- You benefit from scalable software: WordPress is frequently updated
If WordPress is so successful all over the world,it is because of its reliability in terms of data security. The community that has formed around it is careful to report possible flaws in the algorithms, allowing your site to be protected. Regular updates correct gaps that can slip between lines of code. Currently, this Content Management System (CMS) is in its 5.5.1 version.
3- You can work together: the opportunity to work as a team
When the number of your visitors increases,you have to answer questions, manage comments, manage orders if you are a Online shop … You have to work as a team to manage a website that is starting to grow, and that wants to continue to generate traffic or even sales.
WordPress lets you delegate tasks to your employees. Some take care of the customer and prospect relationship, while others add content. There are super administrators, administrators, publishers, authors and contributors … Everyone has their password to access their profile and do their job.
4- You get optimized referencing: WordPress is made for SEO
Your presence on the Internet has one main purpose: to be seen by Internet users. Your profitability depends on your visibility, and it goes through the search engines that show you at the top of the results.
The software is designed to facilitate access to the first page. To quote some example, WordPress allows you to set keywords,to have a URL that contains those keywords, to choose images corresponding to your theme… Basically, a tool that can be used to optimize the SEO of the website.
5- Your website is responsible: optimized display on smartphone and tablet
If you want to attract the most visitors to your online platform, be accessible on mobile. More than three billion people use a smartphone or tablet to surf the web. However, their hardware configuration is less powerful than computers, and the display is smaller. With this CMS,your web pages are "mobile friendly" » and the user enjoys visiting your site.
6- You have a CMS which is also a CRM
A Content management system (the name for a CMS in French) classic is made to create the site, but WordPress is much more than that. It is also a CRM (Customer Relationship Management), because it allows you to talk with your customers, as well as send them automated or personalized emails. You can manage all your conversations with them in one place.
In addition, the software capable of collecting data on all the contacts you have. It is possible to know if a person is already a customer or is in the prospectstage, is it a woman, her age, her geographical location. You can even see the other sites she's visited! A very useful tool for businesses, in order to better understand the target and attract more visitors and buyers.
7- It's software that costs nothing!
Despite all the features mentioned above, know that WordPress is free. Just download it and start creating its website. It is part of open source software, the code of which is accessible and editable by the user, if he wishes. This is a real advantage for startups that need a showcase but have a limited budget.
As it allows you to place yourself well in search engines if you know how to do it, it is a very practical and cost-effective tool that must be possessed if you want to assert its presence on the Internet.