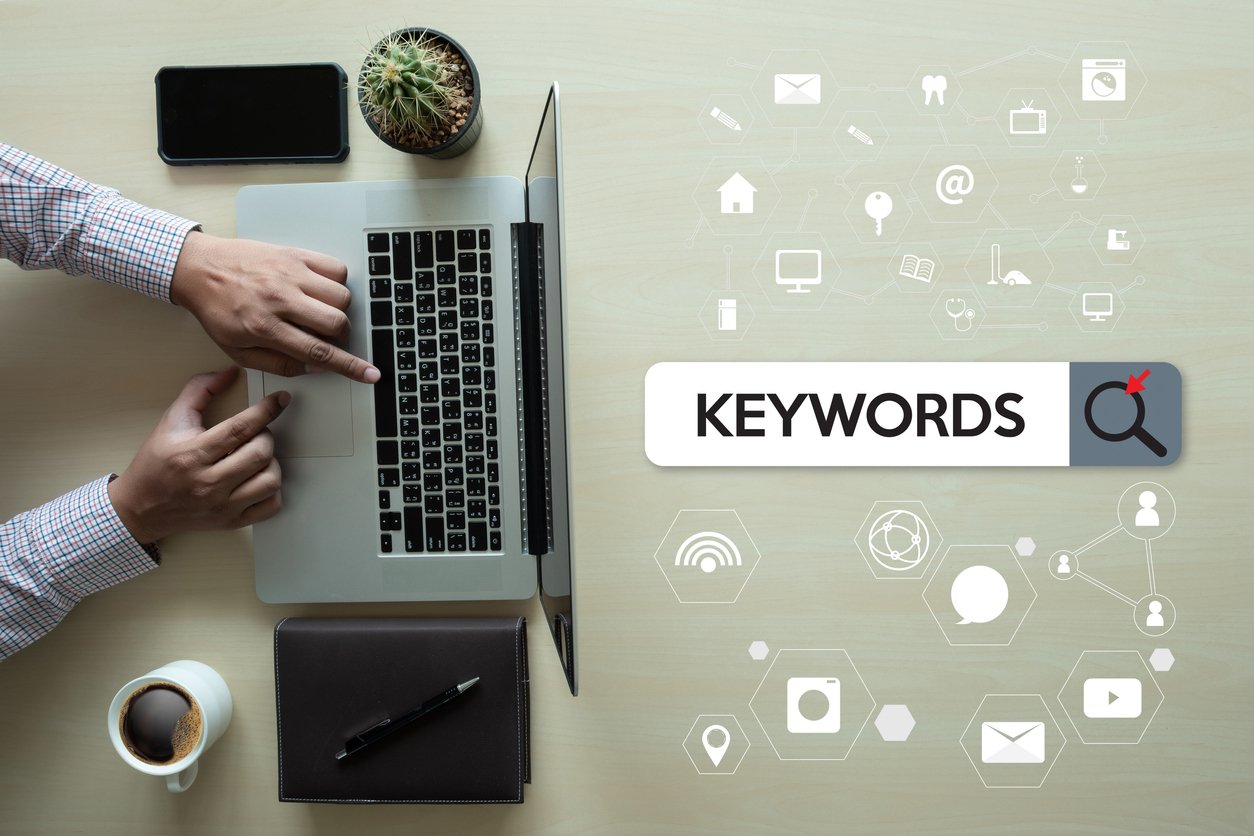 SEO keywords: all the best practices!
Targeting good keywords is the most strategic step in SEO! And for good reason, the middle of the web looks like a gigantic marketplace. Whether you sell products or not, websites are constantly vying for the attention of search engines. Choose relevant SEO keywords, that effectively describe your business, helps you avoid overly competitive queries, and gives you qualified traffic. Here's everything you need to know about keyword best practices in SEO!
Check-list of keyword best practices in SEO
#1 Write for readers before search engines
Today, Google robots are more and more efficient, and manage to imitate human behavior! Indeed, search engines now know how to identify the unscruly strategies of multiplying the use of keywords, and this without ever producing interesting content. So, before you think about SEO optimization,your writings should be directed to the reader! By writing clear and relevant texts, designed to simplify the navigation of Internet users, you also optimize your site.
#2 Avoid keyword overloading
Previously, Google attached great importance to keywords. In seeking to improve the SEO of their site, some people used, and still do today, what is called a "keyword overload". As an example, this bad SEO practice can come in this form: redactor-web-seo-seo-seo-seo-google-redactor-content-seo. With such a URL, you risk not only discouraging your visitors, but also being severely penalized by the search engine! Rather than exploiting a large number of keywords without consistency, focus on a few keywords that are relevant to your business, and integrate them so that they are easily understood by your visitors.
#3 Check keyword density
Also in order to avoid overloading, remember to evaluate the "keyword density". It refers, in percentage terms, to the frequency with which a keyword appears on a page. For example, if your page displays 300 words and your keyword is exploited 30 times, %. then the keyword density is 10%. The ideal would be to reach 2 to %. This value allows Google to enter the subject of your page, without associating it as spam. Note that if density is an important element, you must still insert your SEO keywords to strategic areas, and as naturally as possible!
Also read>> How to boost the performance of your website?
#4 Include keywords in titles and names
To improve the natural referencing of your storefront or e-commerce site, you can add keywords in 4 other strategic locations:
page titles: each page must have a unique SEO title with the appearance of the main keyword, placed at the beginning ideally. Be careful not to exceed 70 characters, including spaces.
meta descriptions: enter a description for search engine referencing. This must include relevant keywords as well as an impactful description, in order to attract potential customers to click on your link. Use well-constructed sentences rather than just keywords! It is advisable not to go beyond the 320 characters.
page slugs and ALT tags: again, try to be descriptive, while remaining simple and concise. To name a page or an image, prefer clothing-made-hands-Paris to idpage10 or IMG_01. Insert the main keyword of your page if possible, and use only letters, numbers, underscores, and hyphens. Finally, remember to separate each word with dashes.
#5 Structure your pages
Structuring its pages allows visitors and Google to quickly identify the most essential information in your content. Here are some SEO best practices:
Practice HTML markup for each title and subtitle on your page. In order of importance, insert one Title, several H1s (Title 1), several H2s (Title 2), one or more H3s (Title 3), etc. Each of them must be unique and present targeted keywords. Be careful not to use the same text multiple times.
Spread your main keywords several times in the body text (every 300 words approximately). You can obviously change the order of the words. For example, if you are looking to refer to the keyword "creating handmade clothes", you should consider a phrase like "creating a handmade garment" to calculate the density of your keywords.
Add synonyms to your keywords and work on the lexical field. We are talking about secondary SEO keywordshere. In general, this type of practice is obvious, in order to enrich your text as much as possible.
When you add a link to your own content, check the relevance of its anchor. For example, instead of "Click here", we will opt for "Flower dress".
#6 Use one keyword per page
To facilitate your SEO and demonstrate the relevance of your content to Google, each page of your site must be established according to a unique and different theme. As you will have understood, integrating a target keyword for each page is de rigueur (we are talking about the concept of the monothematic page). Therefore, if one of your pages has a theme of a "Long Flower Dress", you can repeat this keyword in the SEO title, the slug of the page, the title, the body text and the Alt tag of the page.
Read also > > The top 6 essential elements for its website
#7 Add alt text to images
Alternative text is used by search engines, such as Google Image,and counts when referencing your website! It serves as a description for an image, and ideally has 4 to 5 keywords related to it. Google uses alternative text to identify the content of a page. The user also benefits, since theAlt attribute improves the accessibility of a site for visually impaired people, or for those using a screen reader or a browser on which images are disabled.
#8 Scan for competing sites
Competitiveanalysis contributes greatly to the success of a natural referencing,commercial and marketing strategy. It allows you to keep an eye on the competition, and to recognize the key success factors in your field of activity. Thus, it is important to understand the content strategy of your competitors, and the aspects that you will be able to exploit for your own site. Here are some things to look at:
the number of words written on the page;
the quality of the editorial content;
the frequency with which new content is published;
the structure of their securities;
the number of tags and categories;
The type of content (images, videos, audio files, etc.)
social media integrations…
Read also > > 6 common errors in his website
SEO keyword strategy: the long tail
While competition is raging for well position its site on Generic SEO keywords, it becomes necessary to review its SEO strategy using more long tail keywords! As a reminder, a long tail refers to a set of queries that, individually, do not seem relevant from an SEO point of view, but once accumulated, can generate up to 80% of the total traffic of a site.
The long tail is opposed to the short trail. The latter takes the form of a query of only one or two words, but which generates a lot of traffic. In practice, it includes generic keywords (brand name, one- or two-word expressions directly related to the activity…). In contrast, the long tail is characterized by a series of complex expressions combining a set of words.
A long-term SEO lagging strategy thus offers the possibility of placing oneself on accessible and relevant keywords. The goal here is to find its niche,to identify the right associations of keywords,and to gradually improve its positioning on Google.
Intuitively, one might think that it is more interesting to position oneself on the keywords short drage, because they bring more visits. In practice, several arguments tip the balance in favour of the long tail! This makes it possible to aim for affordable, judicious and cost-effective keywords. Several studies confirm this:
An Ahrefs study estimates that more than 29% of keywords with more than 10,000 monthly searches are 3 words or more.
In one of his blog posts, Neil Patel discusses Amazon's revenue streams, noting that 57% of their sales come from long-term keywords. Indeed, the latter seem to convert more prospects into customers, and even more so in a sales context!
Read also > > How to prepare the redesign of your website?
5 SEO Tools to Find Relevant Keywords
In order to carry out your SEO strategy,it is strongly recommended to use SEO tools capable of measuring the relevance of SEO keywords. Here are the 5 essential tools!
#1 Google's related searches
Google can suggest keywords to you via its famous related searches. Indeed, the browser provides, at the very bottom of the page of its results, new searches directly related to your main keyword. These are used to enrich a long tail! However, remember to multiply the searches with different keywords in order to exploit many other long-tail ideas.
#2 Auto-completion to position oneself on long tail keywords
In the same way as related searches,Google's auto-completion,also known as auto-add-in,immediately suggests long-tail keyword ideas. To do this, simply enter your main keyword in the navigation bar. If the results are often limited in number, multiplying the keyword entries allows you to quickly exploit dozens ofexamples of long tail!
#3 SEMRUSH, to study the SEO practices of competitors
If SEMRush represents a certain cost because of its paid packages, it was inconceivable to miss out as it is effective in choosing the right keywords in SEO! The tool allows you to have a global overview of the SEO strategy of your competitors. It also informs you of the keywords that bring the most visits to this site, and displays several data about it:
the monthly organic traffic induced by these keywords
the Google positioning of the site on these keywords
cost per click (CPC) in case of an Adwords campaign
#4 Answer The Public, to find long tail keywords
Answer the Public, a very useful SEO tool for content creation, provides you with examples of long-tail keywords to carry out your SEO strategy! In no time, it gives you an overview of the answers to bring to internet users on a specific subject. Classified by adverb and displayed as circles, these questions will enrich your long tail, and bring you a multitude of new content ideas to produce to satisfy your audience.
#5 The product lists of e-commerce sites
Very interesting for people wishing to reference an online store,this 5th technique to find long tail keywords consists of visiting an e-commerce site (Fnac, Amazon, eBay …), and indicate in the search bar the name of a product you are marketing. The lists of products, related to your search and sold by the site, are displayed and bring you a maximum of keywords to exploit! Do not hesitate to go directly to the product sheets for more information and keywords.
As you will have understood, there is no shortage of possibilities to find the most searched keywords in SEO. We advise you to always keep on hand a small notebook or an Open Excel workbook, in order to regularly maintain your findings.
This non-exhaustive list of best practices in SEO keywords will guide you towards effective SEO. However, you will have to keep yourself informed very regularly on the subject in order to assimilate all its subtleties, but also its evolutions.
To go further > > 4 good reasons to open an e-commerce site!