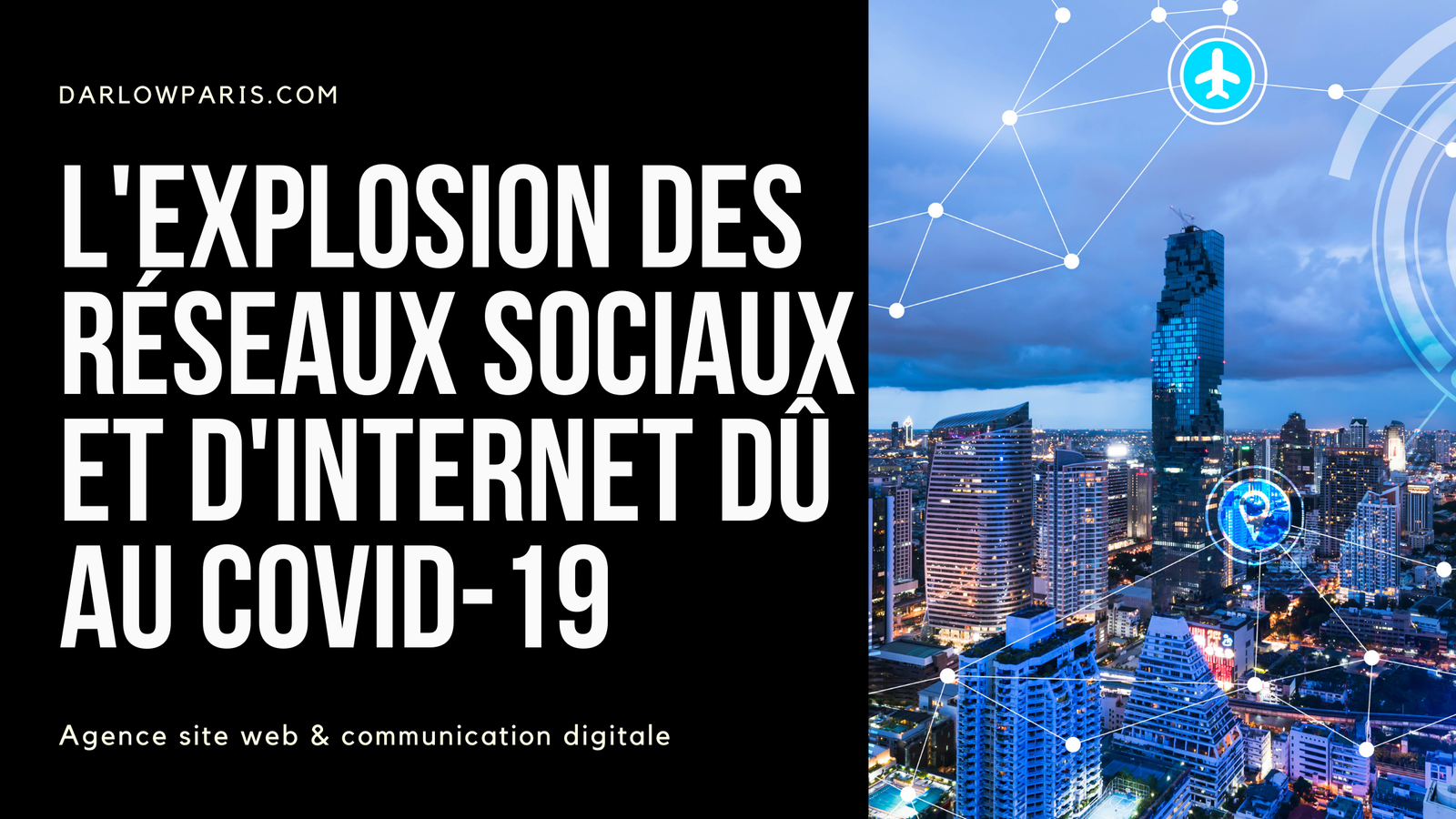 The explosion of social networks and the internet due to Coronavirus
Today, nearly 4 billion people, or more than half of the world's population, use social networks. This digital trend increased sharply in April 2020 with the introduction of containment to curb the spread of Covid 19. Indeed, with Twitter for information or Instagram for entertainment, there is something for everyone!
All categories of the population, young and old alike, have started and created an account on a social network. This trend is forcing the media and businesses to change the way they communicate and to turn to these platforms to the millions and sometimes billions of users.
But also the purchases they made in stores gradually migrated to the internet. To survive, small businesses had to turn to the internet and online shops multiplied.
An increase in theuse ofthe internet andsocial networks
In France, on Monday, March 16, 2020, containment is established. People are forced to stay at home and naturally spend more time on their smartphones. Thus the number of users of social networks will increase sharply during this period.
According to an IFOP study carried out in March 2020 on a thousand French people, 62% of them would spend more time on their smartphone during the containment period and 45% would use it for more than three hours a day. In particular among young people aged 15 to 34, 75% of them would have increased their time on screens and 54% would spend at least four hours a day there. Phone use is related to social media activity during confinement. 59% of French respondents use messaging apps such as Whatsapp or Messenger, and 62% of 15-34 year olds post and share content on networks such as Instagram, Facebook or Twitter. Containment is also an opportunity to discover new applications, so 28% of French people have downloaded at least one new social network on their phone and use it for their personal use, but also in the professional field where 20% of French people would use it for their work.
According to IPSOS, the French are also interested in current events. Thus 28% of posts relate to the evolution of the virus internationally and 21% concern containment measures.
Theexplosion of internet shopping
Physical businesses were unable to remain open with containment, only businesses deemed essential remained so. In order to continue to exist and not to put the key under the door, local businesses had to turn to the internet. Thanks to the ease of use of the internet, the transition was made quickly and simply. Traders have been able to turn to social networks like Facebook, Instagram to get people talking about them and sell their products. More professional sites also exist such as Veando, a site that allows you to pick up click-and-collect purchases. To be more independent traders were able to use specialized sites to create websites without technical knowledge.
With the increase in internet use in our lives, we are targeted by specific advertisements that might interest us according to our online habits. This overexposure to advertisements increases our chances of buying online. Moreover, with the increase in internet shops it has become very easy and quick to buy on the internet.
We can see some stability for 2019, but with the period of first confinement we can see a net increase of 15% in March to 51% in April! The online shopping curve follows containment, in May 47% of purchases are made online and in June the curve dropped to 13%.
The economic consequences of this increase
Containment is a real advantage for social networks and for companies that use these platforms. They are used en masse by a large part of the population, both in the personal sphere and in the professional setting. That's why companies pay to display their product on the platforms most used by Internet users. As a result, social networks are growing and increasing their turnover thanks to the advertising that circulates on them. Today, social networks are well established around the world and are often run by firms that make billions of dollars. They are used in all sectors such as media and communication, hotels and restaurants, fashion and events, but also trade, health or real estate… Even politicians use it to communicate their ideas! Now anyone can share anything with millions of people instantly. Today, the digital age has completely revolutionized the form of marketing.
Impact on influencers
Everyone tends to this feeling of loneliness, this is where the influencers, a new profession very fashionable among young people intervened, since it consists of often spreading ideas, movements via social networks, intervened. They were able to encourage us and make us laugh.
With containment, it was absolutely necessary for brands to keep their money and thus reduce partnerships for safety. As a result, the number of partnerships per week worldwide has increased from 500 to 300. The influencers had to make a sudden return to their roots in order to keep their followers. Many have reinvented themselves and come up with new ideas. The pandemic will have resulted in a sorting of the "good" influencers. The current channels are those of sports, cooking, etc.
Thehomefluencer
With containment, a new type of influencer has emerged. Now that the vlogs (videos taken by a person recounting his daily life where his travels, ect … ) are no longer relevant, it is a question of regaining a closeness with his community since solidarity is at the center. To occupy and make people think, these influencers launch debates, deep reflections, they are creative and innovative, always with humor, this has enough to bring authenticity and ' as décor brought many people together. Nor did they hesitate to encourage and encourage people to socialize.
Theincrease ininternet flow
Containment also acted on entertainment, outdoor activities such as sports or simply walks were limited with very strict measures. So the French had to turn around on other activities like reading, watching series… But with the increase in electronic objects in homes, the ease of smartphones, tablets or computers and the very efficient algorithms of the different platforms, which make us stay, the main distractions will have been social networks or streaming video platforms. The increase in visits to social networks such as Instagram, Facebook, twitter, Snapchat, content on these platforms has multiplied and users have been able to have more fun and discover other types of content. Another opportunity for entertainment will have been watching series, Netflix and Amazon Prime have seen their attendances explode with containment. The number of Netflix users increased by 15 million in the first quarter of 2020, from 167 million users at the end of January to 183 Million at the end of March.

What's the reason?
With containment, the entire population must remain at home to protect themselves from Covid 19. More restaurants, more cinemas, more bars… No more outings! But then how do you see your family or friends? How can you not be bored at home on your own? How can we keep in touch if we can't get out of our house? With all these restrictions, people naturally turn to social networks. First, to communicate with them, people can exchange with each other, talk to each other, and maintain contact with their loved ones. Indeed, even confined, it is important to maintain relationships, social bond, and continue to talk with friends without changing our habits. Video calling applications such as Zoom or FaceTime are therefore widely used during containment. To communicate by message we will mainly use applications like Whatsapp, Instagram or Facebook according to the generations. Then people want to distract themselves and think about something else during this difficult time. They seek to forget this oppressive context, and what better way to escape than to follow his favorite accounts on Instagram, which is currently THE social network for entertainment. Finally, even if the public prefers not to think about it, it is still important to learn about the virus and to be aware of the news in real time, for that it is Twitter that is the champion of information, the major media use tweets to share government announcements in real time and thus warn the population of new measures to be taken regarding the virus.