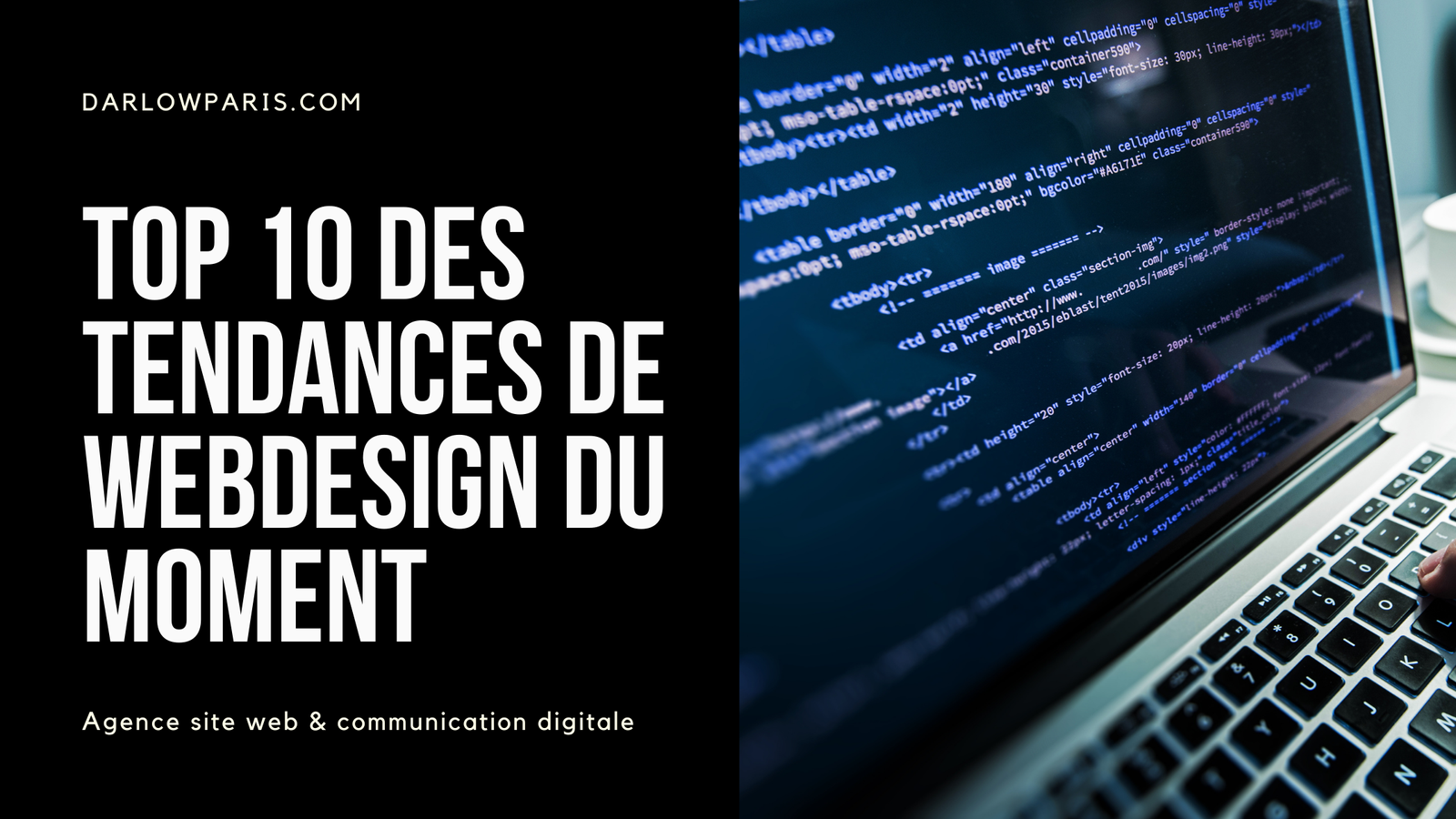 Top 10 web design trends of the moment
When it comes to Webdesign,being on the page is not just a fad, it's also about efficiency. Website designers and designers take into account the expectations of Internet users, in order to be able to convert visitors into prospects, and prospects into customers.
You have to have an attractive, clean and modern visual,in order to be able to hold attention and trigger the intention of purchase.
There are several trends of Webdesign,which may seem contradictory at first, but we can choose what suits us and test several looks to see which one is more effective for our target.
1- The mobile responsive site
Compatibility of your site on a mobile platform is essential on Web 2.0. This is called being "mobile responsive" in web design jargon. When you consider that 75% of regular Internet users use a tablet or smartphone to connect, the question no longer arises, it is an obligation. This feature allows your virtual storefront to have an optimized display, whether the customer is on a computer or on a phone.
2- Dark colors
The dark side on a website is not necessarily a negative connotation. On the contrary, it is a way to surprise visitors to remember you. Many modern pages use black in the background,the only condition is to use a font that contrasts well and choose the right size in order to optimize the visibility of the text.
3- Light and flashy colors
If sobriety is sometimes the order of the day, there are times when colors are important. If your target is feminine or young,flashy and garish hues can attract attention. Pink, neon, purple … some Internet users are sensitive to a more "punchy" visual. Black and white is an old-fashioned duet that should be left to the paperback.
4- Custom and real images
Image banks have millions of references that can be used very well, in order to effectively dress up the presentation of your web page. However, you have to take into account the fact that free images can be used by everyone, and even if you pay for some photos, the license is surely not exclusive. Real and personalized images serve your credibility,especially if you're a site e-commerce that wants to sell products that can be found in other competitors.
5- Animations and 3D images
Three-dimensional images and animations are very important in the design of your website. They give modernity to your presentation,thanks to an appearance in relief. Combined with a good choice of texture,they allow the user to have a good browsing experience.
6- Videos and animations
Videos play an important role on your website. The user is attracted to everything that moves, especially since a video of a few minutes is more effective than a text of 1000 words. It's effective at presenting a new product, explaining features, as well as convincing you to switch to purchase. You just have to pay attention to the media loading time, as this can slow down the connection, especially when the user is on mobile.
7- Unoccupied spaces
A website that is overloaded can confuse the user. Minimalism can minimalisme be used wisely to highlight the message we want to convey. Don't be afraid to leave open spaces between the different texts to highlight what you mean. One could say in this case that the void dresses the contents. The reader's eyes immediately point to where to look, without having to look.
8- Different fonts and fat everywhere
Admittedly, the "Times New Roman," "Arial" or "Calibri" fonts are no longer part of the 2020 trends in web design. You can still use them in a cover letter or CV, but if you're talking to third-millennium Internet users, you have to bet on something more stylish. Use fat without moderation,because your website is not on a diet. Varie the typography to avoid monotony when playing, so you will avoid wearying the visitor earlier than expected.
9- The contact platform
A well-designed website should allow visitors to contact administrators. In addition to a phone number and email address,the chat platform is an important element that needs to be integrated. Often it is a pop-up window placed in a corner. Visitors can access it at all times to ask questions. Its presence helps to reassure the prospect and to retain the customer. A prospect who intended to buy may change his mind if he does not receive a quick response from you.
10- XXL design
The XXL design is becoming more and more trendy lately, because it allows the use of some of the points mentioned above: large fonts and empty spaces. Webdesigners call it "oversize," and it's very convenient to display important media or information in the "full-screen" world. It's impossible for the user to miss your message!
Would you like your website with our Agency? Contact us