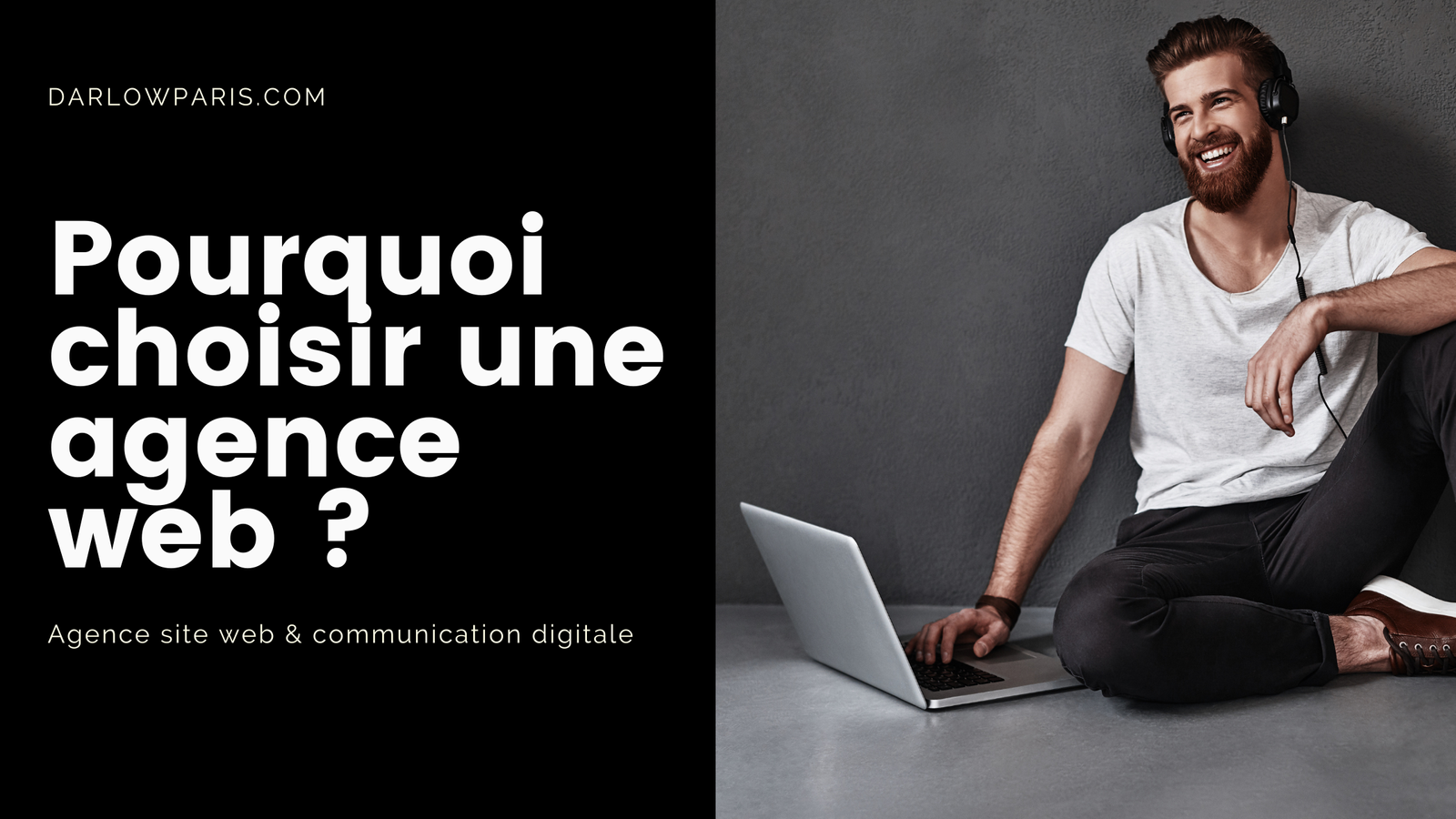 Why choose a web agency?
As we all know, digital marketing has taken all markets by storm in different fields, it is now an integral part of our way of life. But then why choose a web agency for a website creation project when many free solutions are available? From communication strategies to the creation of the website, web agencies help you achieve your goals as efficiently as possible.
The term web agency appeared in the 1990s with the rise of the internet in companies. Originally, a web agency specialized only in the development of websites.
A web agency today, will not be content to manufacture an effective site. It will create a whole web environment conducive to your business, the site of which will be the focal point it intervenes in different areas.
First of all, a web agency saves time, in fact, the creation of a powerful website takes time. Time needed for you, to grow and maintain your business and services on your side, you will only have to oversee the development strategy of your site, be it a showcase site or an online shop.
This will save time on code or CMS training like WordPress for example, creating a domain name, writing and mastering SEO and of course implementing a web marketing strategy, the time saved will allow you to focus on your work and responsibilities.
A web agency, beyond the creation of your website takes care of its promotion, its evolution and its updates which are essential factors. If you bet everything on this commercial asset you have to be accompanied by professionals.
Then a web agency allows you to earn money, in fact it's a budget and an investment. Depending on your type of project, the price of this service may vary. A professional site at the right price must earn you money, eventually.
We agree that money invested in an agency should be profitable, but how?
The web agency earns you notoriety, visibility, makes you sell your products and services by creating with you a web marketing strategy.
A web agency also allows you to strengthen your traffic, for a site to be profitable and efficient, it must be visible to many Internet users. They offer access to comprehensive expertise to generate traffic.
Web agencies are able to work on your site's traffic through work on the code and quality of tools, the implementation of features, managing your content, and referencing, whether they are natural or paid.
These elements will serve on your audience, but very few will interact with you so that you need to develop your audience to have more interactions.
To do this, they set up and offer you a web marketing strategy and an action plan using different tools such as paid referencing that create campaigns and ads, which will appear first on search engines, on other sites with advertising spaces or on social networks.
Natural referencing is also effective but hard to manage, you need to know the content issues and the appropriate keywords.
To stop worrying about your marketing strategy, you can ask theweb agency to conduct competitive studies, and take care of your communication strategy. The social networking strategy (see article 8 January) is also very effective indeed it allows to get visibility for your content and your company is allows to develop your image. It will guide you on how to manage this community.
Newsletters can send your content to interested users. This practice allows you to receive periodic emails about your promotions, news or services. They will bring you a flow of qualified visits that must be maintained and preserved at all costs.
Statistical analysis is also set up when you call a web agency. Interpreting these statistics will guide you to strategic adaptations to optimize your content.
These tools are very effective in strengthening your traffic. That the role of a web agency is not just to design a website, it requires many skills.
A web agency can also allow your "physical" store to expand your product offering, vary your marketing, be open h24/24, offer complementary products or improve your organization through the establishment of an online store.
But be aware that even if you have no product online the creation of a website can be beneficial. The goals of each company vary from selling items or only to wider recognition on the world of the web.
One of the main purposes of the web agency is the support and scalable maintenance for an up-to-date website. Indeed, the creation of an online store is an important step in the life of a company. Faced with obstacles and difficulties, the web agency will be there to support you and find solutions. Your internet users expect excellence and relevance, and together with your web agency you will be able to provide them. It offers alternatives and solutions that stick with your brand image.
To attract new customers or retain existing customers, your website must meet your personal needs. This adaptation is characterized by its design, ergonomics, and functionality.
The web agency offers custom graphic design, feature development specific to your needs and hosting your website on dedicated servers.
Entrusting your web project to an internet agency is like delegating this responsibility to a professional. Web agencies are responsible for creating your website, and adapt to your budget and brand image.
Graphics are of paramount importance: this is the first thing customers notice. The design of your website must therefore reflect the visual identity of your company, attract the eye and retain the interest of Internet users. The developers of web agencies learn about current trends. Your online store is obviously responsive, it allows your customers to have a rendering automatically adapts to smartphones and tablets
Today, professionals and companies that do not have a website have a hard time getting people talking about them.
With the increase in the number of e-commerces on the net, using a web marketing agency is not too much because a web agency must be creative to innovate and make a difference, which is why you have to choose it meticulously.
Finally, in order to make you autonomous in the management of your site and your visibility, web agencies will provide your training in the management of the site and its content, to the training Google Analytics to better understand the behavior of Internet users visiting your website or how to understand social networks.
One of the many advantages of an interactive communication agency: all the professionals you need are brought together under the same structure.
Instead of using a developer, designer, graphic designer and ergonome to create your site, you only contact the web agency. The latter has its own network of professionals, who each contribute their opinion for your web project.
A web agency now brings together a different set of professions:
The project manager
A web project manager has a role as coordinator. He leads various missions, from design to digital project management. He is still the one who supervises external providers and internal technical teams.
The Web-graphist
The web graphic designer specializes in the visual communication of a company. He is in charge of the graphic universe on various digital media (application, site, social network, newsletter, etc.). The web graphic designer offers concrete digital communications solutions.
The web developer
A web developer is in charge of the technical implementation of a digital project. He is usually entrusted with the creation of a website with the various stages that compose it. The web developer works in coordination with the web project manager.
The Traffic Manager
Traffic manager specializes in increasing web traffic. Traffic manager also deploys different strategies to increase a company's visibility on the web.
The SEO consultant
An SEO consultant is an expert in the natural referencing of a site. Its role is to help a company improve the positioning of its site on search engines.
The business developer
The business developer's mission is to identify the best growth tools for a company. It intervenes when a company wants to improve its turnover.
The Content Manager
The content manager specializes in digital content management. It is also associated with the professions of web editor and community manager.
The Growth Hacker
A Growth hacker's mission is to boost the growth of a company. However, the latter must undertake an effective strategy to achieve quick results.
A web agency can offer you many services. It can help you earn money through new visibility on the web/blog/social networks and save time with work tools.